Visualize a Wave Function
Can you visualize a normalized wave function on spacetime?
Let's try with a simple example. The role of a wave function is to assign a complex number to each point (x, t) in spacetime. This is central to a quantum description of the world. The complex number at each point is interpreted as an amplitude, which determines a probability — the probability of measuring some physical quantity (like position or momentum) at that point.
But in the end, it's just a complex number, of unit length.
Now, a complex number lives on the complex plane — a plane with the vertical axis representing a complex value, and the horizontal axis representing a real value. And the complex numbers of unit length live on a circle around the origin. So you can think of these numbers as readings on a circular meter — like a speedometer or an altimeter — except that the meter reads amplitudes instead of speeds or altitudes.
That means you can visualize the wave function ψ(x, t) as assigning a meter-reading to each point in spacetime. And if I fix a point in space — like a spot on my kitchen floor — then I can trace through the history of this wave function over time. The result will be a smoothly changing meter reading. For example, the meter arrow might just spin around clockwise over time.
Then it would look something like the following.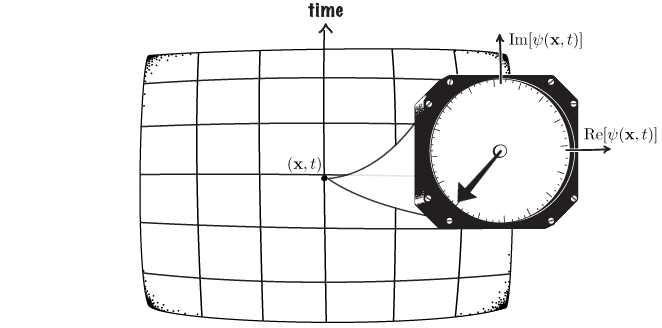 (Click to enlarge)
Challenge Question: How would you characterize the "time-reverse" of this description of the world? Tune in next post for a discussion…
Edit: The above account is not quite right — see the post comments for more.
Soul Physics is authored by Bryan W. Roberts. Thanks for subscribing.
Want more Soul Physics? Try the Soul Physics Tweet.